Fablight Sheet & Tube
Laser
Historically, tube laser cutting has been very expensive. Shops with a tube laser cutting machine might charge $500 setup fees, and the machines themselves would sell for $500,000 and up. ​With the Fablight Tube, we've brought the cost of such a machine way down — within reach of many businesses and schools.
Fablight Tube Cutting Laser with Small Footprint
Features

Totally Tubular
The FabLight Tube laser cutter will cut and engrave on square, rectangle, and round tubes up to 2″ diameter and up to 52″ (1320mm) long, or 76" (1930mm) with optional tube extension).

Easy End Cuts
It can produce complex geometry on the tube ends, including a cope, fish mouth, and tab and slot. Using the laser on tubes is much faster, cleaner, and cheaper than using traditional hand or power tools. The fit-up between tubes comes out perfect with the FabLight.

Side Cuts Too
Internal features such as complex holes, slots, notches, and other features along the tube are also very easy to cut during the same operation as the end cuts.

Sheets Supported
In addition, every FabLight Tube includes all features of the FabLight Sheet for 2D cutting, as well as the marking and engraving features that are standard on all FabLight systems.
Very Versatile
FabLight Sheet is a flexible and powerful sheet metal laser cutter. Equipped with an industrial-quality IPG fiber laser and precise mechanical control, you can make just about anything metal you or your customers can think of, including custom signs, furniture, panels, enclosures, industrial components, jewelry and art.

Perfect Precision
With a laser beam spot size of 0.1mm, the kerf is tiny compared to other metal cutting technology like plasma or waterjet. With our industrial servo motors, mechanical assembly, and motion control software, we can produce a cutting accuracy of 0.15mm/m.
Software Included
Every FabLight includes the software needed to run it, with no additional charges. You're also free to install it on as many computers as you'd like, which means you could give it to customers or a class full of students, and have them produce cut-ready files. For more on the software, visit the software page.
Powerful Solidworks Plugin
Our plugin for Solidworks automatically compensates tube (and pipe) parts for cutting on a FabLight. For joints between tubes, this means finding the right cut path so that parts will fit perfectly when aligned.

Since the FabLight can only cut straight into a tube, this path sometimes follows the outside of the tube, sometimes the inside, and sometimes both. The plugin also unwraps square, round, and rectangle tubes into flat DXF files automatically.
Simple FabCreator Software
FabCreator functions as both laser cutting and laser engraving software. It imports industry-standard DXF and DWG files for both sheet and tube parts, with no difficult programming for you to learn.

A visual drag-and-drop interface lets you assign geometry to a cut, engrave, or raster process. TrueType text can also be edited and formatted. After you select the material for the part, tabs are automatically added to tube parts, and additional tabs can be easily added to prevent any cutouts from falling during the fabrication process. A preview lets you see what the part will look like — before the job hits the machine.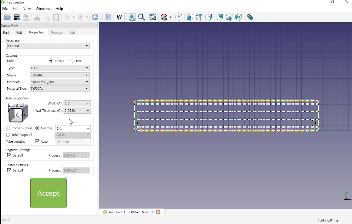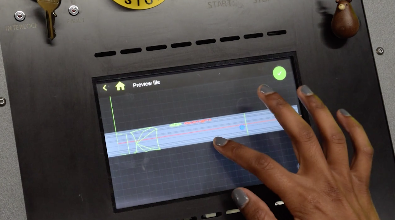 Intuitive Touchscreen Interface
A smartphone-like touchscreen lets you load a job and preview it to make sure it's the right file. Factory-created cut, engrave, and raster processes are stored on the machine, and you have full control to override any process as needed.

Jogging the cutting head with the touchscreen to line up the part on the material is delightful. Then just press go, and watch perfect parts appear.
Expert Advice and Servicing
Our experience in the sheet metal manufacturing and engineering business stretches back to the 1960s. This means you receive expert advice and service from engineers who understand your business. GWB Machine Tools is Australia's sole distributor for LVD quality machinery, Flow Corporation Water-jet Cutting Machines, Lissmac handling and processing machines and DCM Tool Grinders.